Ringette Saskatchewan
Ringette Pants
Ringette Saskatchewan currently has used Mosspro Ringette pants available for purchase.  Cost is a donation of your choice.  Pants are green and green with black and red.  Contact the office if interested.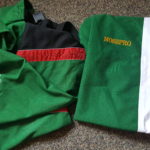 Ringette Saskatchewan's New President Announcement
Ringette Saskatchewan is happy to announce our new President Kelly Markwart.
Kelly has been a Ringette Assistant Coach for the past 4 years with the Buffalo Plains U14AA RUSH (WCRC Silver Medal '13 and Gold Medal '14) and Regina Stingers U16AA programs. Kelly is also a former member of Midget AAA, WHL, CIS and Norwegian Elite Hockey Leagues, with previous experience as a Sask Hockey Course Conductor, Coach, and Skills Camps Instructor for over 20 years both in Ringette and Minor Hockey.
Kelly explains that, "ringette is a beautiful game, and I've been very fortunate to be a part of it as a Parent, Coach, and also as a Fan.  I'm very excited to work with our RAS Staff and local associations in Regina, Saskatoon, Prince Albert and Buffalo Plains to continue to grow this fantastic sport throughout Saskatchewan under the guidance from Ringette Canada."
Ringette Saskatchewan is looking forward to having Kelly in his new role.